Blue, all blues, my favorite colour. Girls matching scarves, black-lined eyes stand out in bright faces standing out against blue.
Bamboo armour sculptures, bamboo armoured women march in matching bamboo armour helmets, each unit unique, each woman so similar, the same face, identical, identical to the woman watching at the dark curtain watching-me-watching-her in multiples marching.
White squares with grey shadows reflect the outside inside upside down, I want to sit on them, walk between them, but we're told to move on, casting longing glances behind at symmetrical temptation.
Struggling with a red tower where his head should be we walk uncomfortably close to an almost bare, dark-skinned, man and hurry past ashamed of those staring at his struggle.
Move nervously with acrid smell of sweat burning the image of oversized sports shirts stretched on frames into our noses.
Lovely female forms dancing on steaming mountains of rubbish, while the city looking pretty in evening sunlight beyond the dump.
Near the VIP lounge a parody on VIPs where ordinary citizens make room, keep distance from the three letters on a cardboard sign, reserving space for their own relative insignificance to be firmly rubbed in.
Is it a dirty urine stain, amber with ancient insects, honey with drowned ants bringing out the colour, the eternity, in fading images?
Clapping hands, shuffling books – lines that form, flow, shift, join – garment workers gazing up and ahead through silly glasses too real to be true – people, people against red background, pigeons lining up to pose white and grey against red – architectural models to perfect and precise for traffic dusk, monsoon mould, people to occupy the crevices – photographed meals, toilets, buses, cars, days, days shared to save CIA trouble of tracking and spying, "is this red curry a terrorist activity?" – drenched hair and faces emerging from the black-stinking water of the Buriganga river as they have always done – colourful faces of marriage markets searching suitable partner for gays son, I'm ugly I hate myself, 30,000 per month and religious – drug addicts face painfully close – hairy legs intertwined – giant, plastic-looking human animated ear – clear clean lines that sum up 'fish' 'tree' 'logic' 'history' – a donkey falling down dead after grazing cheerfully, relief in the word 'anesthetize' – stepping gingerly around that not-quite human, not-quite-animal, hairy dead creature lying uncomfortably between two halls –
faces, 'satiated' 'satisfied', 'shocked', 'relieved',
refreshed, exhausted I never made it to the third floor but head down to reality, so much less intense than this Art.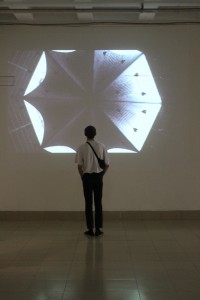 Dhaka 2016