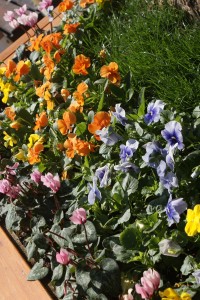 Wake up summer Denmark, breeze is whispering at your wide windows, frosty wind has gone West, long may he stay.  Birds have called since first light – soon after you slept at midnight.
Wake-up summer sky, clouds are gone and only white flight-tracers crisscross pale morning dew, breeze skips across water, delicate footprints shimmer over restless reflected blue.
Wake up summer's youth, put on white new graduation caps, keep sun's glare out your eyes. Rise and shine your silver hair, your clear bright faces, find and form yourselves in groups and pairs.
Wake up summer music, lesser-knowns tuning their instruments, testing, testing, for endless festival dance days of beer and song, evening dusks that last forever but not too long.
Wake up your parents, little snow-headed, chubby-knee-ed infants, content and wanted, sand and laughter, space and carefree days, drag them out into the sunlight to eat and play.
Wake up summer's lovers, dance in Nordic light, planning, dreaming, stretch out under trees, along flowerbeds on green lawns, let's have some summer weddings before the autumn storms.
Amtoft 2015