I'm Rilla Nørslund and this website is where I share the poems I write. In the past I have shared poems with friends and family through poetry readings at small and big occasions and through the printing of a small book of poems about Bangladesh. Early in 2013 I decided it was time to be brave and do something a bit more drastic – so I started this web-site. I committed myself to sharing at least one poem every week.  I post the link to the week's poem on Facebook and Twitter and somehow people seem to find their way onto the site. I am surprised and delighted by the feedback and by the number of visitors to the site, which has been increasing steadily.
A bit about me: I am a Danish national but lived most of my childhood and younger years in Southern Africa. In 1999 I moved to East Africa and I lived and worked (in Agricultural Development Projects and Programmes) in Tanzania, Kenya and Uganda before moving to Bangladesh in 2010. I lived in Dhaka for over 6 years,and in September 2016 I moved to Denmark to be closer to my family.
Although I wrote poems in the past and also did some drawing and painting and tried my hand at writing, as I got older I felt more and more that I was seeking and not finding the right artistic outlet. That really changed in 2011, when the wonders of life in Bangladesh became too much for me and I started pouring out my reactions and feelings in poems and verses. Since then I have written scores of poems of varying shape, size and quality.
It took a while to be brave enough to start sharing, but with positive response from my family, a group of inspirational ladies here in Dhaka, my sisters and my very enthusiastic (writer) mother, I slowly got braver.
In 2012 I published a leaflet with a first collection of poems. Among other things I shared it with my Bangladeshi colleagues and their overwhelming reaction was further inspiration. Several were moved to tears and have given so much positive feed back that I moved into a new highly productive phase, thanks to their enthusiasm. In 2016 I published a more ambitious collection of poems called 'Talking Trees' as my farewell to Bangladesh.
So here you are …. my poems for you to read.
I hope you like them.
Rilla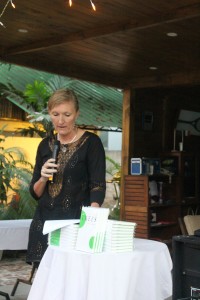 Photo from launch of  'Talking Trees' in Dhaka, 2016